[By Lanee Lee, originally published on Citizine.tv and HuffPost]
As a big fan of WRDSMTH's street art I see on a regular basis living in Los Angeles, I stealthily stalked him for the day for two reasons: 1. To find out what the man behind the gas mask looks like 2. To discover how a day in the life of WRDSMTH plays out. Here, WRDSMTH reveals his ideal day in LA...
While most writers pen words to paper, this ink slinger pastes words to walls. Known for his encouraging edicts and love notes, like: "Do something everyday to remind this city why the hell you're here," and "The only lie I've ever told you is I liked you when I already knew I loved you," LA-based street artist WRDSMTH is a modern day, spray can-wielding Robert Frost.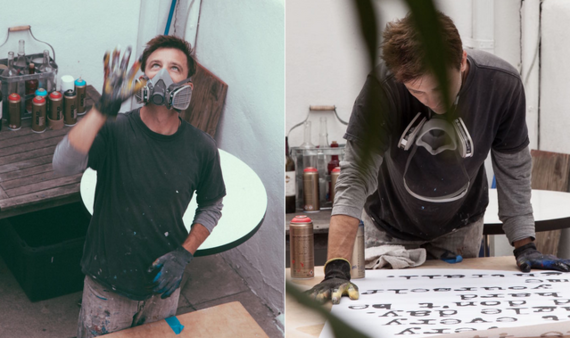 What began as a mind-clearing 'craft project' has turned into an international phenomenon. WRDSMTH's signature artwork—a poignant message flowing from a vintage typewriter or typewriter-fonted message—can be spotted in London, Paris, New Orleans and more. Luckily, LA is still home to a majority of WRDSMTH's creations—mostly on electrical boxes in Hollywood and DTLA.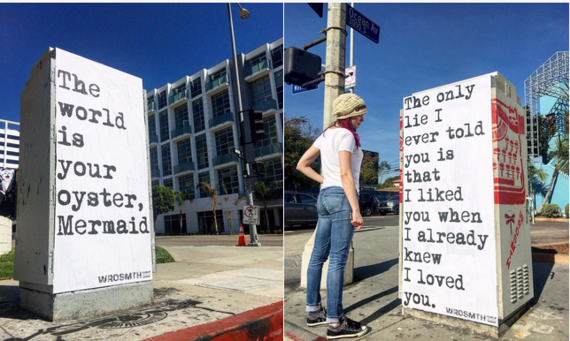 Photo courtesy @WRDSMTH
"The boxes provide a blank canvas with high visibility on many street corners. Traffic in LA is insane, so it's fun to think that my work might put a smile onto the faces of those stuck in traffic," says the writer-turned-artist.

His WRDs span beyond the streets as well. WRDSMTH's meters inspired Julia Price's song I Miss The F ck Out Of U and made their way onto fashion accessories like passport holders and purses. If you're in need of some inspiration at home while you brush your teeth or do a sun salutation, limited edition prints are also available at Paper and Fabric.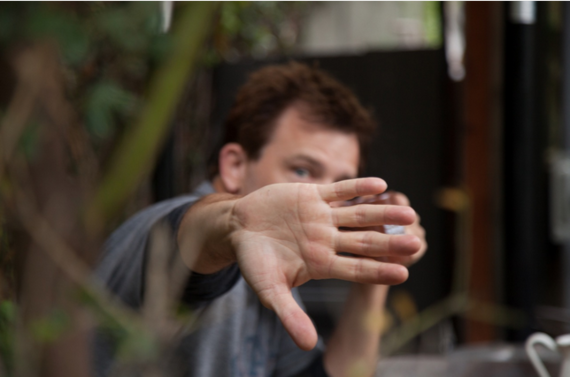 Like Banksy and other street artists, WRDSMTH remains anonymous, but that doesn't mean he stays in hiding. So, where exactly does this man of mystery hang out in LA?

Scroll on to find out:
6 a.m.
Art
I am an early riser. I get up at 6 a.m. every day. Years ago I found I am most creative at this hour and do my best writing before most in LA even turn over and hit the snooze button. When I began WRDSMTHing, I started waking up and hour or so earlier and hitting the streets to paint and paste. The city is obviously very quiet at that hour and a lot can be accomplished before the sun rises on the day. At that hour, amidst the quiet and the dark, I often feel like a crime fighter, which is why I, along with a bunch of artist friends, have come to call the action of putting up street art "fighting crime."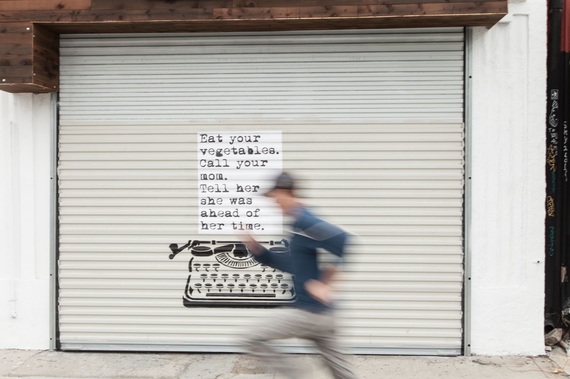 7 a.m.
Breakfast

I love coffee. Coffee-flavored coffee. Black. It's an inescapable part of my morning routine and my current favorite places to get my fix are: Groundwork, Mojo, and Alfred Coffee. For breakfast, I enjoy Blu Jam Cafe, BLD, and Swingers. I am a big fan of a really good egg sandwich and those places offer some very tasty ones.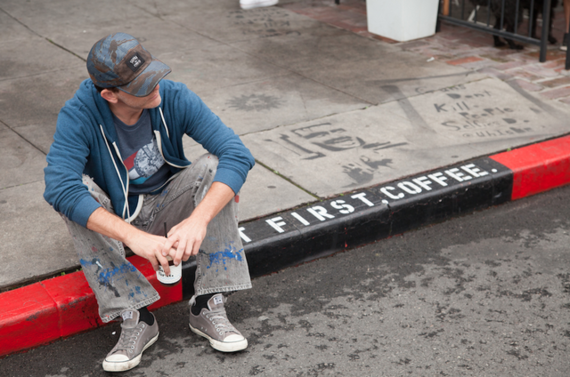 10 a.m.
Museums/Street Art
I enjoy getting lost in the art at LACMA and The Broad. The Arts District in DTLA—the streets around ArtShareLA and the alleys around Urth Caffé—is still a great place to spot some inspiring street art and murals, but nothing beats stumbling upon the works of Morley, Teachr, Random Act, Starfightera, Colette Miller, or Hijack as you're walking or driving around North Hollywood and Hollywood.
12 p.m.
Lunch
I'm a big fan of lunch and enjoy everything from In-N-Out (Double-Double, no onions) to FoodLab (Smoked Salmon Sandwich) to Sack (Cold Fried Chicken Sandwich) to Joan's on Third (Meatloaf Sandwich).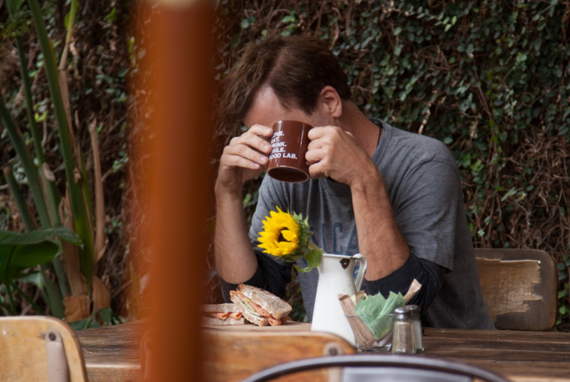 1 p.m.
Shop / Farmer's Market
I love the Melrose Trading Post on Saturdays and Sundays for everything from cool clothes to off-the-wall furniture and knick-knacks. I love to hunt for good books at Book Soup and good records at Amoeba. Farmers Markets are also great and on almost any day of the week there's one to be explored in LA. Personal favorites include the one on Melrose Place on Sundays and the one in Plummer Park to start the week on Mondays.

3 p.m.
Outdoor Adventures
I love to clear my head with a hike/workout in Runyon Canyon. And sometimes I like to pretend I'm not in LA amid the seclusion of Bronson Canyon.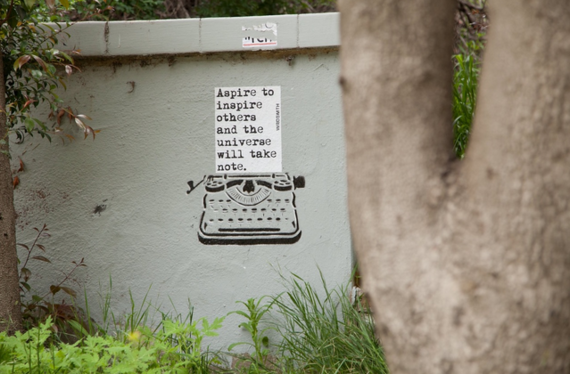 5 p.m.
Happy Hour
My mantra: "If Happy Hour starts at five and you're not arriving right at five, you're denying yourself a little happiness." A few favorite happy hour locations include Village Idiot, Harlowe, The Pikey and The Well.

7 p.m
Dinner
I'm obsessed with the perfect Burger—Father's Office in Santa Monica, Plan Check, and Stout are my fallbacks. I think I could eat sushi every single day: Sushi Fumi, KazuNori in DTLA, and Sushi King in Santa Monica. [Note: I have yet to experience Sugarfish, but it is high on my to-do list.] I also love places that offer an all-around A+ dining experience: Laurel Hardware, Wolf, a.o.c., Salt's Cure, and The Tasting Kitchen.
9 p.m.
Music/Movies
I often like to escape with movies at The ArcLight. I enjoy baseball games at Dodger Stadium in the summer. And concerts at the Hollywood Bowl, Greek Theatre, the Troubadour, or really almost any music venue in LA is always a great way to spend a night.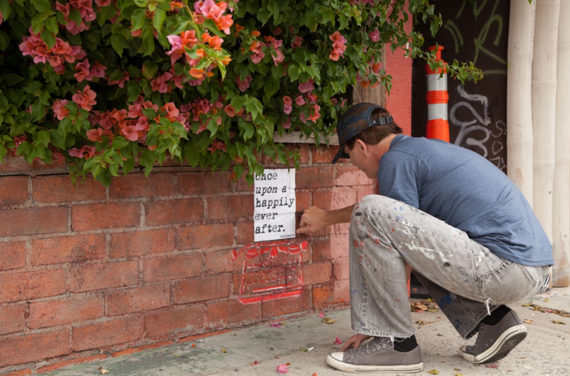 Images, unless otherwise noted, by Stephen Paul.
To get your own piece of official WRDSMTH art, please see below: